PTC Creo Illustrate
Create large quantities of technical 3D illustrations, animated processes and 2D drawings in no time.
The most advanced technical illustration tool
With Creo Illustrate you can create comprehensive technical 3D illustrations, 2D drawings and interactive animated processes that exactly reflect the current product design and support formats from printout to augmented reality.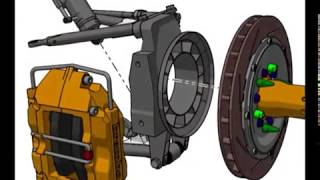 The Software:
Allows illustrators to develop 3D content in just 15 minutes.
Reduces the amount of text and increases accuracy in identifying parts.
Updates content automatically when design changes.
Forms the basis for an augmented reality strategy.
Creo Illustrate Features
Reuse of CAD data: Derive 3D technical illustrations and animations from CAD design data.
Associative CAD data: The illustrations are updated when changes are made to the product design.
Sequences: Illustrate repair, assembly, and other procedures using static and dynamic illustrations.
Content reuse: Create an illustration and use it in multiple publications.
Understanding: Annotations enable particularly clear communication through the use of call-outs, symbols and other references to enhance the 3D content.
Parts lists: Generate complete parts lists for all of your products and use these lists to define a product structure.
Product structure: Organize part-related content based on the position of the components in the parts list of the product.
Lower translation costs: Use illustrated step-by-step procedures, 3D animations, illustrated parts lists, and other graphic representations instead of text.
Augmented Reality Foundation: Seamlessly reuse 3D illustrations and animations for AR.